To be accepted into the studio, you must first register for a professional  evaluation and consultation with us.  Click here to  register for your CONSULTATION AND VOCAL EVALUATION.  This is an introductory session where you will meet with Tricia Grey, MM, to have your singing or songwriting professionally evaluated, discuss your goals, and find a regular weekly spot in the schedule.
Time challenged?  Don't have time to visit each page on this site?    Download The  Student Info and FAQ 2013 or the Student info Letter 2013   for  info about lessons at Sing Like a Star!
 Tricia Grey, MM: Owner, Sing Like a Star Studios
Tricia Grey, MM, is an exceptionally qualified voice teacher with a Master's Degree in Music and over 30 years' professional experience singing, writing songs, recording, teaching, and performing in the competitive music industry.
She sings and teaches in all vocal styles- Rock, R & B, Gospel, Blues, Jazz, Musical Theatre,  and Country. She is a music industry veteran who knows what it takes to succeed.
A native of Los Angeles where she taught voice and sang professionally for over 25 years, Tricia was recently the vocal coach for the MTV series "Made", and for "Before the Fame".
Tricia's performing and teaching career in Los Angeles included singing lead in many top LA bands, as a solo artist and as the opening act for many top name recording artists.  Her performing career included touring the United States and Europe as well as recording her original music in some of LA's most famous recording studios. She has performed with many of the top names in the music industry in Los Angeles, New York, and London.
TRICIA GREY BAND PERFORMING ON SUNSET STRIP, HOLLYWOOD, CA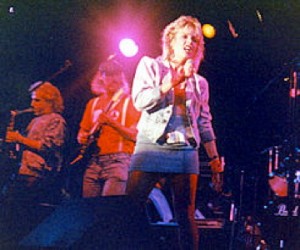 Tricia Grey, MM has spent many years researching the science of vocal production and she is a national leading expert in vocal pedagogy. She is the author of a 300 page instructional manual for voice teachers used by vocal instructors throughout the world.  She combines her experience and knowledge of the music industry with a formidable educational background for an unbeatable combination.  Tricia Grey's internationally renowned Sing Like a Star vocal technique is now the most sought after vocal training in today's competitive music world. With her unbeatable track record as a professional singer in bands and groups of all musical styles, a Master's Degree in Music, and her astounding ability to diagnose and quickly correct vocal issues, Tricia brings you a unique combination of education and experience in the music industry seldom found in one teacher.
Tricia Grey, MM has made a life-long study of vocal pedagogical methods and has synthesized a unique and powerful approach to vocal training that is unparalleled.  Her vocal method is the preferred training for hundreds of Grammy and Tony winners; the vocal technique recommended by the producers of American Idol, Glee, The Voice, and The X Factor- the same technique used by major popular recording artists in R & B, Gospel Country and Rock genres, as well as Broadway and Musical Theater singers throughout the world. It is the most sought after singing technique in the music industry today. Her Sing Like a Star vocal method enables singers to sing from the lowest notes in their range to the highest notes with one smooth, powerful and connected sound- the commercial sounding vocal quality that the music industry is looking for!  This is known as the "Mix" approach to voice.  It will develop a voice with amazing high notes, at least a three octave range (or more), power, control for riffs, licks and runs, and the development of your innate personal vocal style, that can be applied to the style of music YOU enjoy singing, rather than a teacher's favorite style.
One of her pedagogical influences has been Seth Riggs and Speech Level Singing International.  She attained  the highest level certification (Level 5) and wrote the Teacher Training manual used to train SLS teachers world-wide.  She started teaching the SLS technique in Los Angeles at the age of 20, when Maestro Riggs referred many of his clients to her. Although no longer affiliated officially with SLS, she incorporates the best of SLS technique into her Sing Like a Star vocal training.  She was the EAG (Education Advisor) for the Southern States for SLS International for 6 years. 
She is currently the Director of Education for the International Voice Teachers of Mix, a teacher education group dedicated to the scientific study of good vocal technique.

"I can hardly imagine a vocal technique teacher more eminently qualified to teach singing than you…your students will be blessed to have access to your rare experience"   Seth Riggs, author of Singing for the Stars and originator of the SLS vocal method.
You can read more of  Seth Riggs' recommendation of Tricia Grey, MM on the TESTIMONIALS page of this website.
TRICIA GREY, MM is the Director of Education for IVTOM, the International Voice Teachers of Mix
Tricia believes that vocal training is not just for aspiring professionals,  and that anyone who loves to sing should consider voice lessons. "I can teach anyone to sing, if they consistently practice the amazing techniques that I share with them" says Tricia. "Many people think that singing ability is something you either have or you don't- but nothing could be further from the truth. I have had many students through the years who came to me with very little natural ability, but with great drive, discipline and work ethic, who now have professional careers!  The key is in consistent dedication and commitment to daily practice and weekly lessons, as we are retraining many small muscle groups through therapeutic vocal technique.  You can make huge changes in your voice in a short amount of time by simply singing along every day with your most recent Sing Like a Star vocal lesson, which we record in the studio.  I will give you some life changing tools, and it's up to you to reinforce those changes with a daily practice routine that solidifies new vocal habits.  In that way, we can see dramatic changes and improvements happening very quickly".
                                                    Tricia working with the Cheetah Girls before a show
Tricia is a published songwriter and has recorded in London, New York, Nashville and Los Angeles, where she worked with many of the top names in the recording industry. She teaches a fast and easy method of songwriting that will have you creating your own songs quickly, even if you have never played an instrument before!
She has recently released her 10th CD, which you can purchase at http://www.cdbaby.com/cd/triciagrey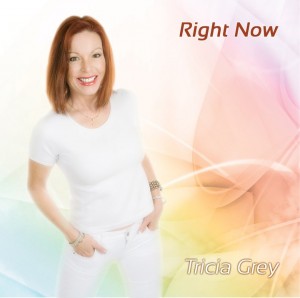 For videos of Tricia's live performances, student lessons and performances, and free voice lessons and tips, visit the Videos page of this website, and subscribe to http://www.youtube.com/triciagrey.
Her primary focus now is to pass on the wealth of knowledge and experience acquired in her many years in the music industry to her students, to empower all artists to reach their full potential and to realize their dreams, and to help anyone who has always wanted to sing to achieve their goals. "I believe that if you have the desire to sing, you can learn to sing, no matter what your background or obstacles are", says Tricia.  "The desire to sing is in you for a reason, and you will only be happy as a person if you follow that desire. You don't have to want to be a star to love singing and to benefit from vocal training- there is a place for everyone to express their creativity!   If you have a burning desire to sing, that means that you probably should be singing!"  
Whatever your background, skill level, age, or experience is at this point, Tricia is here to help you live your dream- to sing like a star!
The following is an interview of Tricia Grey, MM by I Am Entertainment Magazine