At Sing Like a Star Studios we offer many classes including: Voice Lessons, Songwriting, Piano and Guitar, Lessons for Children, and Performance Opportunities. We even offer a Lessons for Less program with our highly qualified and trained Sing Like a Star Associate Teachers. The first step to getting started with any of our classes is to register for a no-obligation CONSULTATION.  QUESTIONS?  email our Sing Like a Star support team at support@singlikeastar.com; call our support team at 404-790-1830 Monday-Friday, 10-6  pm EST; or leave your email and phone number by clicking the instant chat button on the right side of the website; we will get back to you during normal business hours.


FROM MICHAEL JACKSON'S VOICE TEACHER SETH RIGGS, CREATOR OF SPEECH LEVEL SINGING:
Dear Tricia:  I can hardly imagine a vocal technique teacher more eminently qualified to teach singing than you.  You've sung it all- Blues, Rock-n-Roll, R & B, Opera, you- name-it.  The common thread to accomplish all these vocal avenues is an intimate knowledge of how to "bridge" from your chest into your head voice mix, both in vocalizing pedagogy and application to songs.  I don't know what community you will land in, but they will be blessed to have access to your rare experience.
Most Sincerely, Seth Riggs
Teacher of Michael Jackson, Stevie Wonder, Ray Charles, Luther Vandross, and thousands more; author of "Singing for the Stars".
Speech Level Singing (SLS) originated in Los Angeles, California with Seth Riggs, who became known for his expertise in training stars such as Michael Jackson, Stevie Wonder, James Ingram, Natalie Cole, Ray Charles, Barbra Streisand, Madonna, Josh Grobin, Amy Lee of Evanescence, and thousands of others. His vocal technique was revolutionary and it changed the face of the music industry forever. Producers such as Quincy Jones referred their clients to Seth because of his ability to transform voices, and to keep professional voices healthy and in consistently excellent shape for grueling tours and recording sessions, in an extremely competitive industry where time is money.
Tricia Grey, MM, was trained by Seth Riggs in Los Angeles from her teenage years and began teaching the SLS technique at the age of 20, while performing professionally in Rock, Jazz, and R & B bands in the Los Angeles area. Her astounding ability to switch vocal styles from Rock to R & B to Opera is directly attributable to her vocal training in SLS.
She created the 3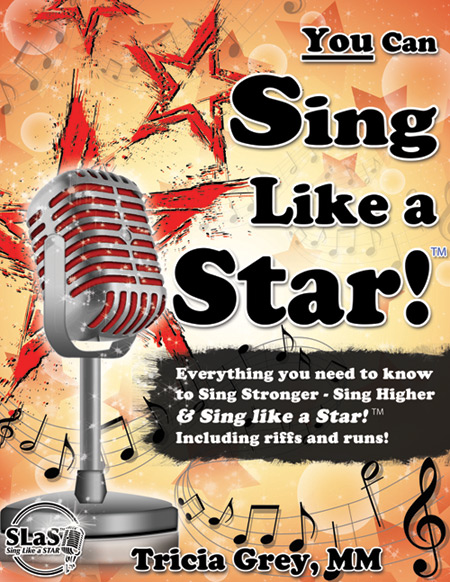 00 page instructional manual for Speech Level Singing Instructors worldwide, and she was the Educational Advisor (EAG) for SLS in the Southeast States for five years.
Tricia earned the Level 5 (the highest level possible) Certified Speech Level Singing Instructor, and was honored with several awards from SLS.  She has decided to focus all her energy on her Sing Like a Star studios and vocal products, so she is no longer officially teaching for SLS;   however she continues to  incorporate all the techniques and skills of her many years of SLS training.
She is the author of an exciting new book on singing and vocal technique YOU can Sing like a Star!  and a second book YOU can Sing with Style!
MEAGAN SHARP, FIRST PLACE WINNER OF FOX'S STARS OF TOMORROW CONTEST
"MIss Tricia- thank you so much for transforming my voice.  It  has changed dramatically since I started working with you.  Thanks to you I won FIRST PLACE in the Stars of Tomorrow contest at the Fox Theatre!"
Testimonial from a Student Who is Now a Working Music Industry Professional!
To GET STARTED please  register for a CONSULTATION.
Want all the information in one place?  Download INFORMATION AND FAQ
To learn more:  Subscribe to the Vocal Tips blogs!  Tricia Grey, MM, writes informative blogs about singing, the science of the voice, and everything you need to know to succeed in the music business.                                                         
QUESTIONS?  Contact our Sing Like a Star support team by phone at 404-790-1830, by email at support@singlikeastar.com, OR use our instant chat feature on the home page,  Monday- Friday, 9 am-9 pm.  Weekend calls will be returned Monday morning!
 We look forward to helping YOU Sing-Higher-Sing Stronger- and Sing like a Star!