At Sing Like a Star Studios we offer many classes including: Voice Lessons, Songwriting, Piano and Guitar, Lessons for Children, and Performance Opportunities. We even offer a Lessons for Less program with our highly qualified and trained Sing Like a Star Associate Teachers. The first step to getting started with any of our classes is to register for a no-obligation CONSULTATION. 
QUESTIONS?  email our Sing Like a Star support team at support@singlikeastar.com; call our support team at 404-790-1830 Monday-Friday, 10-6  pm EST; or leave your email and phone number by clicking the instant chat button on the right side of the website; we will get back to you during normal business hours.


FROM MICHAEL JACKSON'S VOICE TEACHER SETH RIGGS, CREATOR OF SPEECH LEVEL SINGING:
Dear Tricia:  I can hardly imagine a vocal technique teacher more eminently qualified to teach singing than you.  You've sung it all- Blues, Rock-n-Roll, R & B, Opera, you- name-it.  The common thread to accomplish all these vocal avenues is an intimate knowledge of how to "bridge" from your chest into your head voice mix, both in vocalizing pedagogy and application to songs.  I don't know what community you will land in, but they will be blessed to have access to your rare experience.
Most Sincerely, Seth Riggs
Teacher of Michael Jackson, Stevie Wonder, Ray Charles, Luther Vandross, and thousands more; author of "Singing for the Stars".
Speech Level Singing (SLS) originated in Los Angeles, California with Seth Riggs, who became known for his expertise in training stars such as Michael Jackson, Stevie Wonder, James Ingram, Natalie Cole, Ray Charles, Barbra Streisand, Madonna, Josh Grobin, Amy Lee of Evanescence, and thousands of others. His vocal technique was revolutionary and it changed the face of the music industry forever. Producers such as Quincy Jones referred their clients to Seth because of his ability to transform voices, and to keep professional voices healthy and in consistently excellent shape for grueling tours and recording sessions, in an extremely competitive industry where time is money.
Tricia Grey, MM, was trained by Seth Riggs in Los Angeles from her teenage years and began teaching the SLS technique at the age of 20, while performing professionally in Rock, Jazz, and R & B bands in the Los Angeles area. Her astounding ability to switch vocal styles from Rock to R & B to Opera is directly attributable to her vocal training in SLS.
She created the 3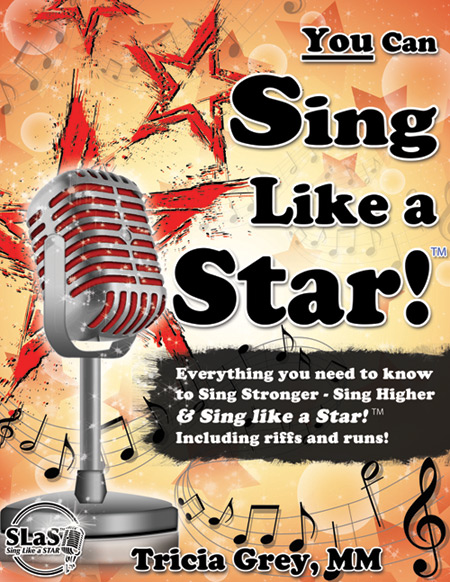 00 page instructional manual for Speech Level Singing Instructors worldwide, and she was the Educational Advisor (EAG) for SLS in the Southeast States for five years.
Tricia earned the Level 5 (the highest level possible) Certified Speech Level Singing Instructor, and was honored with several awards from SLS.  She has decided to focus all her energy on her Sing Like a Star studios and vocal products, so she is no longer officially teaching for SLS;   however she continues to  incorporate all the techniques and skills of her many years of SLS training.
She is the author of an exciting new book on singing and vocal technique YOU can Sing like a Star!  and a second book YOU can Sing with Style!
MEAGAN SHARP, FIRST PLACE WINNER OF FOX'S STARS OF TOMORROW CONTEST
"MIss Tricia- thank you so much for transforming my voice.  It  has changed dramatically since I started working with you.  Thanks to you I won FIRST PLACE in the Stars of Tomorrow contest at the Fox Theatre!"
Testimonial from a Student Who is Now a Working Music Industry Professional!
ONE STUDENT'S STORY- FROM NON-SINGER TO BROADWAY WITH SING LIKE A STAR!
The following story is just one of the hundreds of success stories from Sing Like a Star students.  Jennifer was a dance major at Pebblebrook High School when she came to Tricia, and did not consider herself a singer.  She worked extremely hard and within one year, won several LEAD ROLES in Pebblebrook's musical productions against stiff competition.  And now, she is ON BROADWAY!  Here is the story in Jennifer's own words:                                                                                                          
My life has been a complete whirlwind of blessings this past year.  I began taking voice lessons with Tricia as a dance major at Pebblebrook High School, and I have no doubt that she is the mastermind behind my success from that point on.  Thanks to Tricia, never having sung in a show, I proceeded to win the roles of Amber Von Tussel in Hairspray, Jolene Oaks in Dirty Rotten Scoundrels, Irene Roth in Crazy For You, and Audrey in Little Shop of Horrors.  I knew that musical theater was the career that I had to have. And because of  Tricia, and her amazing vocal technique, I had the confidence in my voice to go for it, auditioning for the Broadway National and International Tour of Bring It On: The Musical.  I was cast as Nautica and have since been touring the United States. This summer we will be performing in Japan!
I am forever grateful for the faith that Tricia had in me as a beginner.  In an incredibly short time, she shaped me into the singer that I am and constantly pushed me to my fullest potential and beyond. I am so very thankful for everything she does!
                        Sing Like a Star Student Jamila Thompson on Team Usher on The Voice!                             
AJC Article:  Stars of Tomorrow Finalists Wow the Crowd at Fox Theatre-  Sing Like a Star student Meagan Sharp Takes First Place!
ATLANTA — The incredible voices of Georgia's Stars of Tomorrow competition echoed through the halls of the Fox Theatre Sunday evening, but one voice in particular carried above the rest. Meagan Sharp,a vocal student at Sing Like a Star Studios in Marietta, GA, dazzled the crowd with her outstanding performance and was crowned the winner of Variety's second annual vocal competition.  "The level of talent was off the charts," said Variety of Georgia Executive Director Chase Evangeline Andrews.  Meagan's flawless renditions of Shirley Jones' "If I Loved You" and Bach – Gounod's "Ave Maria" stole the show.
"Thank you Miss Tricia- your training gave me amazing power and confidence!"- Meagan Sharp
"Tricia Grey is an incredible teacher. She has given me a strong, powerful voice with great high notes. She knows how to build voices, and she understands the science of vocal production. If you want a teacher who can "do it" as well as "teach it", a professional who will get you there fast, call Tricia Grey. You're just wasting your time and money anywhere else! Tricia is the reason I am a recording artist today." – Chantal Roberts, recording artist
"Tricia is not only great with professional level singers-she knows how to get the best out of younger singers too. My daughter had a "typical child's" voice when she started with Tricia at age 9 and now she is a powerhouse- singing professionally, doing gigs all around Atlanta, and writing her own songs. She has been offered a record deal in Nashville, thanks to the vocal and songwriting instruction she received from Tricia Grey. We will be with her for life!" – Sandy Jacobs, mother
To GET STARTED please  register for a CONSULTATION.
Want all the information in one place?  Download INFORMATION AND FAQ
To learn more:  Subscribe to the Vocal Tips blogs!  Tricia Grey, MM, writes informative blogs about singing, the science of the voice, and everything you need to know to succeed in the music business.                                                         
QUESTIONS?  Contact our Sing Like a Star support team by phone at 404-790-1830, by email at support@singlikeastar.com, OR use our instant chat feature on the home page,  Monday- Friday, 9 am-9 pm.  Weekend calls will be returned Monday morning!
 We look forward to helping YOU Sing-Higher-Sing Stronger- and Sing like a Star!