Lewis Ray, a multi-talented singer and songwriter, studied music at Berklee College of Music in Boston, MA and Audio Production at the Art Institute of Atlanta. He plays piano and guitar and loves all styles of music! When he's not teaching at Sing like a Star studios, he enjoys recording and performing his original songs. In January 2014, Lewis announced the release of his debut single and music video, "Light it up", receiving favorable reviews among fans and critics.
He credits Michael Jackson, Stevie Wonder and his family among his many musical influences.
Lewis is very passionate about singing and bringing out the star quality in each student he encounters. "I am absolutely thrilled to be a part of an amazing team and teaching a revolutionary singing method!" says Ray.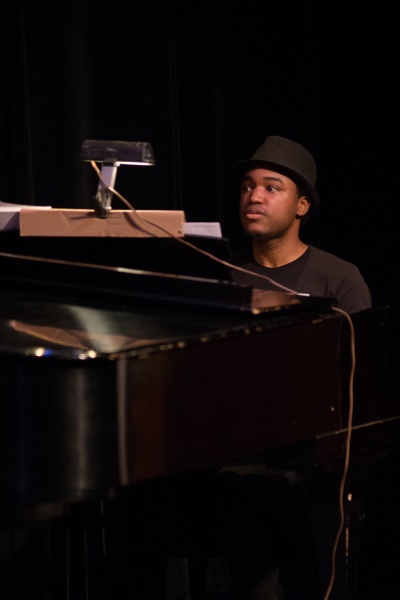 Lewis teaches VOICE, PIANO, SONGWRITING, and GUITAR. Many of his students book hour-long sessions weekly, dividing the time between singing and piano, guitar, or songwriting. He also engineers and produces RECORDING SESSIONS at the SLaS recording studio. If you need a demo, or an amazing teacher, book with Lewis!
Lewis has been a valued member of the SLaS staff for six years!  He is by far our most popular and most requested teacher!
Here are a couple of examples of feedback from Lewis' clients:
I wanted to provide you some feedback on my lessons. Lewis is my instructor, and I think he is perfect for me.The lessons move at a good pace, and I have learned a lot in what seems to be a short amount of time. I can hear what professional singers are doing with their voices, and its rewarding to be able to pick up on that. I love having the recorded lesson to sing along with, and I find them to be very helpful.
Lewis is kind and patient, and answers all my questions. I have felt improvements in my voice and even though I lack confidence, Lewis is helping me to build that up and apply what I have learned in my lessons to the songs I want to sing.
Thanks,
John
I have been very happy with the service that I have received at Sing Like a Star. Lewis is my teacher and he is really amazing. I have grown so much under his guidance. I had been to 3 other companies/teachers before I came to SLAS and I wish I would have come to you all first. Every lesson has provided me growth. I look forward to this upcoming year and continuing to be an SLAS client. 
Best regards,
Aaron 
And here is another client who left a glowing review on Yelp: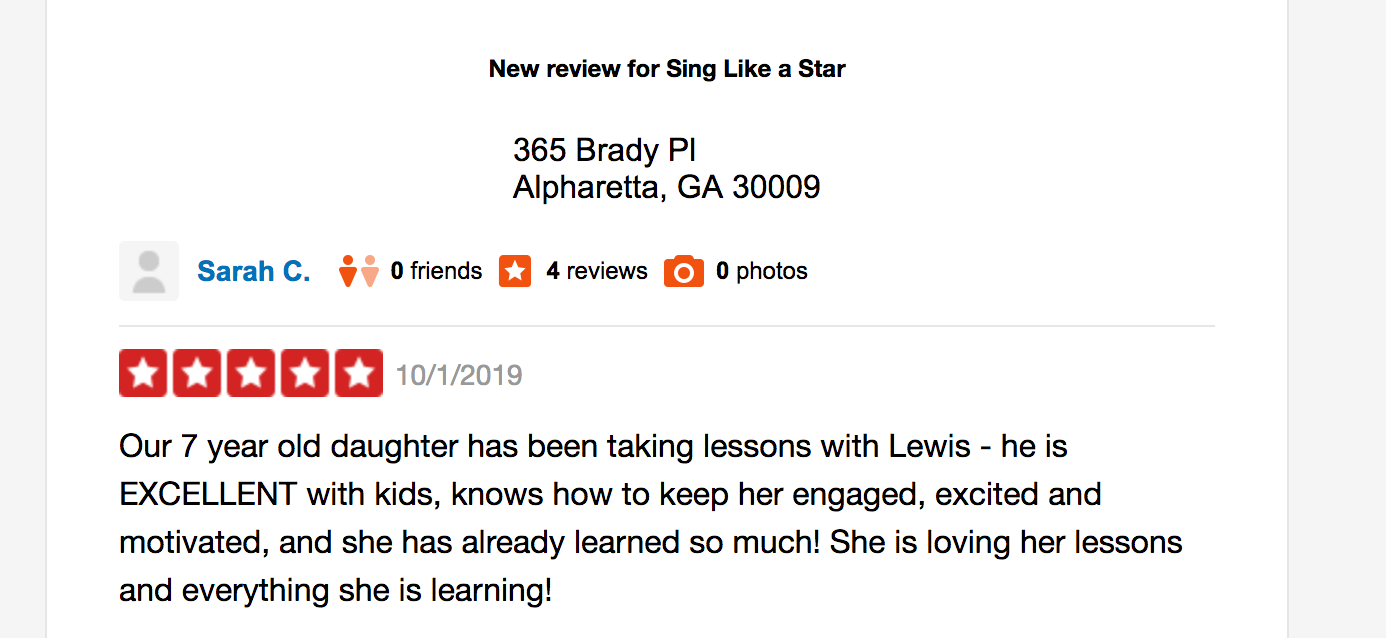 TO GET STARTED WITH VOICE LESSONS WITH LEWIS RAY:
1. Download and read: INFORMATION AND FAQ– This document answers all your questions about lessons at SLaS.
2. Register and pay for a GETTING TO KNOW YOU (GTKY) introductory session.
At the Getting to Know You (GTKY) Introductory Session, Lewis will evaluate your voice, find a spot in his regular weekly schedule, and reserve your first month of sessions (if you decide you want to commit to the lessons).
The purpose of the GETTING TO KNOW YOU (GTKY) introductory session is for Lewis Ray to:
1. Professionally evaluate your voice and share with you our plan to address your unique vocal challenges with the SLaS Eight Steps of Vocal Development Program.
2. Provide you with a sample of what the SLaS lesson experience is like.
3. Give you the opportunity to commit to regular weekly lessons in the teacher's schedule if you would like to do so.
And for you to:
1. Receive a professional evaluation of your voice, your  current level of vocal technique, and a specific plan to address vocal challenges.
2. Discuss your musical and career goals with us and receive feedback about how we can help you achieve them.
2. Reserve a weekly lesson time in your SLaS instructor's schedule and prepay for your first month of sessions, (if you decide you would like to commit to the lessons).
TO REGISTER FOR YOUR GETTING TO KNOW YOU (GTKY) INTRODUCTORY SESSION with LEWIS RAY

1.  Choose the location that is best for you: East Cobb, Alpharetta, or Online (or a combination of these!).
*Students who also wish to include guitar, piano, or songwriting, with Lewis will register for hour-long weekly lessons, dividing the time between voice and the instrument of their choice.

Studio Recording:  Lewis is a highly trained studio engineer and producer.  You can record with Lewis at our East Cobb studio.  Studio recording sessions are $50 per hour, and you must reserve a minimum of a two hour block of time.

After the GTKY, lessons are pre-paid monthly by automatic debit on the first day of the month, using the credit or debit card you registered for the GTKY with; we do not accept cash or checks at the lesson because we want to focus on your voice!
We use MINDBODY payment processing. MINDBODY is a PCI Compliant Level 1 Service Provider. Both SLaS and MINDBODY, our merchant account service provider, meet all network and software requirements set in place by the Payment Card Industry's Data Security Standard (PCI-DSS). Rest assured: your payment information is completely secure with us.
Students take a minimum of one lesson per week, at the same time every week.
3. Register and pay for your GETTING TO KNOW YOU (GTKY) Introductory Session.
*While we prefer that you register on our very secure online system using a debit or credit card, if you are uncomfortable providing that info before meeting us, you may register (for the GTKY introductory lesson only) with Paypal. All lessons after the introductory Getting to Know You session (GTKY) are pre-paid monthly, on the first day of the month, using your debit or credit card.
Please email our Sing Like a Star support team at support@singlikeastar.com,  or call our support team at 404-790-1830 if you need assistance.
4. Confirm your GTKY by phone and by email.
Once you have submitted the online registration form and submitted payment to reserve the session, our support staff will contact you by phone within 24-48 hours with a proposed time for your GETTING TO KNOW YOU introductory session.
PHONE: Our staff will speak with you on the phone, to match your requested time with the closest available time in the teacher's schedule.  Since we are very booked, your first-choice teacher may not be available at your requested time.  Our support staff will find an alternate time with the first-choice SLaS teacher or book you with another SLaS teacher who is available at your requested time. All our teachers are highly skilled.
EMAIL: Our support staff will send you a confirmation email with details and links to the location. Please respond to this email with "confirmed". Check your spam/bulk mail folder for your confirmation email.
PHONE: You will receive a second call from our support staff a day or two before the GTKY introductory session, to go over policies and answer any questions you may have.
If you need to contact us immediately please phone 404-790-1830 or email support@singlikeastar.com.
5. Read your emails!
We will be sending you informational emails about locations, how to do lessons online, practicing, and other important information.  You will need to confirm your GTKY time by email.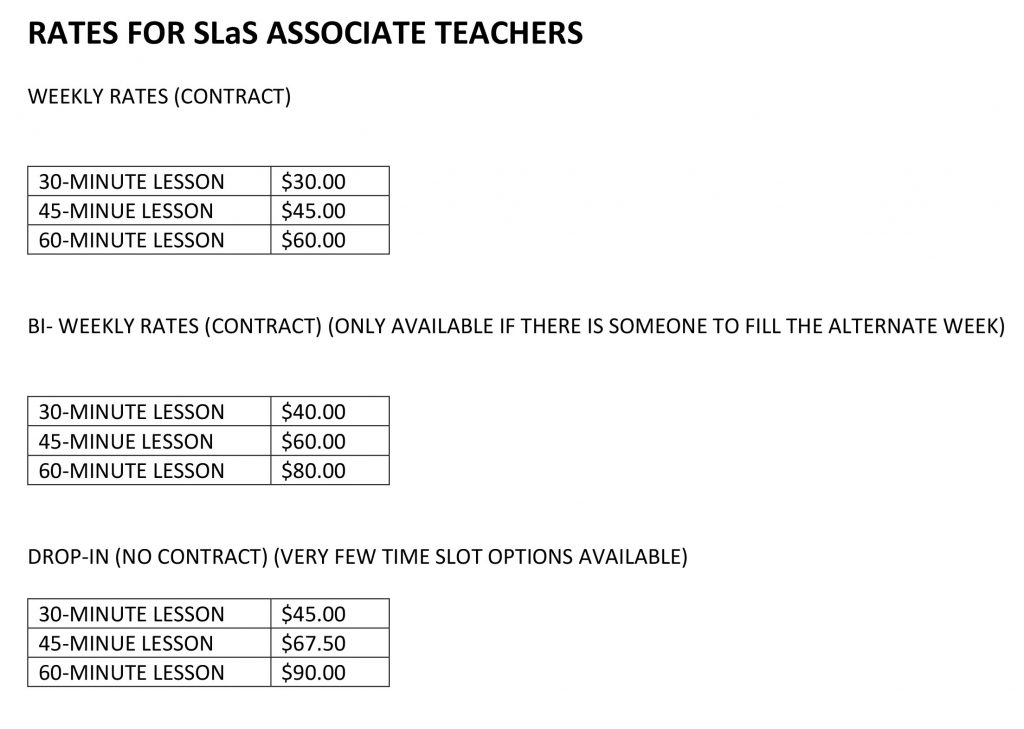 QUESTIONS?
Please email our Sing Like a Star support team at support@singlikeastar.com or call our support team at 404-790-1830 Monday-Friday, 10-6 pm EST.
For all questions about lessons at SLaS please visit this page: LINKS TO REVIEW BEFORE BOOKING
We look forward to helping you Sing Stronger…Sing Higher…and Sing like a Star!