Singing Lessons for Kids – Online & in Our Roswell GA Studio
What about voice lessons for children?
Get your child started the right way, with the best vocal technique available!  Kids are going to be singing anyway, so it makes sense to start them off right, with healthy, fun, and correct vocal development at Sing Like a Star Studios!
At SLaS we give your child the healthiest and most effective vocal training available- and we make it fun too!  Each child is different- some kids are ready for more intense training and development and others are simply exploring music for fun and enrichment.  We meet the child where they are at their level of interest and development to encourage greater interest in music and singing.  We offer piano or guitar lessons as part of the package- learning an instrument along with singing creates a more well-rounded education.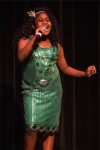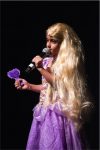 Our program is not like the typical voice lesson, which consists of singing a couple of random "warm-up" exercises and then singing a song several times with no plan for addressing vocal issues.
Our program meets the child where they are, and, while making singing fun, is designed to specifically develop the voice in a healthy yet effective way.  While we don't believe in time-bound objectives in singing for children, we do believe in having a plan and knowing where you eventually want to be.
We don't just vocalize in lessons-we sing songs too!  We balance having fun and singing songs with  clear objectives and specific exercises for vocal improvement.  The balance of fun and work in each lesson varies with the age of the child and their personality.
All curriculum is taught from the textbook YOU can Sing like a Star! by Tricia Grey, MM and is based on The Eight Steps of Vocal Development, a healthy sequential skill-building course with specific objectives and measurable outcomes.  You can ask your teacher at any time about your child's progress and you will get a specific answer related to the educational objectives of the steps.
All lessons are video recorded, and we provide an online Practice Journal so you can see your child's Lesson Plan and how well your child is progressing.
Start now and give your child the greatest gift of song!
PERFORMANCE OPPORTUNITIES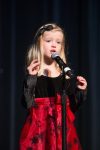 We provide performance opportunities with our twice-yearly showcases at a beautiful professional theater, The Strand Theater in Marietta Square.
When we are preparing for the shows we focus extensively on performing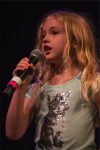 skills and song presentation.  We bring in choreographers who teach movement and stage presence.  We video each performance and we provide a professional photographer.  With each show, your child will become a more seasoned performer!
Learn about studio founder Tricia Grey, MM
Learn about the Sing Like a Star Vocal Method
GETTING STARTED
To get started please download and read: INFORMATION AND FAQ .  This document answers all your questions about lessons at SLaS.
Then register for a Professional Voice Evaluation where we can meet either in-person at our Roswell, GA location or online with Zoom to assess your voice and demonstrate just how quickly YOU can learn to Sing Stronger….Sing Higher….and Sing Like a Star!
SLaS student Jasmine Spencer
Tricia Grey's student Drew Cavendar
Tricia's student Nicholas Moody
Sophia and Nicholas in 2015
TRICIA GREY, MM ON LESSONS FOR CHILDREN
 PRE-PROFESSIONAL CHILDREN
Studio owner Tricia Grey, MM works with pre-professional, highly motivated children. She has had great success with her kids; several directors of local theatre companies comment often that her students are always recognizable in auditions as being the strongest contenders. While many students just want to take singing and piano lessons for fun and enrichment, (and that is perfectly fine with us!) others have aspirations for professional careers on Broadway or as recording artists. Many of our young Sing like a Star students have gone on to great success in the music and film businesses.
To see just a few examples of students who have started as children with SLaS and gone on to success in the music industry click  YOUR CHILD COULD SOUND LIKE THIS
11-YEAR-OLD BRIA SIMPSON
9-YEAR-OLD RAYVEN BAILEY
Tricia's student Carley Vogel started with Tricia at age 9.  While studying with Tricia, she became a student at Pebblebrook High School, won Miss Cobb County in 2015, was cast as the lead in every college musical theater production and is now Broadway Bound!
SLaS KIDSTARS SHOWCASE
SLaS KIDSTARS SHOWCASE
The only requirement for us to work with your child is the willingness and ability of the child to practice the recorded lessons for 20-30 minutes each day and the willingness and ability of the parent to be proactive in scheduling and requiring regular daily practice.
* Parents, please do not over-schedule your child with too many activities, expect them to practice on their own, and then quit lessons when they do not do so.  It's up to YOU to be very pro-active (all the way through high school) in scheduling and enforcing practice time.
Even if kids love to sing songs, they don't always love to practice the exercises- but that is the only way change and improvement occurs. Practice should be daily, and at the same time every day if possible.
Start small, with 10 minutes of consistent practice every day, and then try to build up to the 20-30 minutes per day target.  Children model your behavior; if you have ever wanted to take singing lessons, this is a great way to bond with your child!
We look forward to helping you Sing Stronger….Sing Higher…..and Sing like a Star!