Online Vocal Lesson Singing Videos with Master Teacher Tricia Grey
Sing Like a Star Studios offers the world's most effective online vocal  lessons, singing instruction, and vocal coaching for all ages and experience levels from beginners to professional singers. On this page you can see many singing videos showing how our lessons work.
With Sing Like a Star vocal training you will:
Sing higher and stronger with NO vocal strain!
Eliminate voice breaks!
Sing well in the style of music YOU like – R&B, gospel, musical theater, rock, pop, country, jazz!
Learn to sing like a star!
You can take voice lessons in-person at our conveniently located Sing Like a Star Studio in Roswell GA (30076) or take online vocal lessons from anywhere in the world with our Online Lessons.
Our students have appeared (and won!) on The Voice, America's Got Talent, American Idol and X Factor.
We currently have students appearing on Broadway, students who have won scholarships to prestigious universities and college musical theater programs, and students who are singer/songwriters creating a buzz in the music industry.
We also love working with "regular people" who want to pursue their love of singing!
"When you want the very best, choose SLaS!"
QUESTIONS? Please email our Sing Like a Star support team at support@singlikeastar.com; call our support team at 404-790-1830 Monday-Friday, 10 am-6 pm EST.
To get started, simply register for a Professional Voice Evaluation ($30) where we can meet with you either in-person at our Roswell, GA location or online with Zoom to assess your voice and demonstrate just how quickly YOU can learn to Sing Stronger….Sing Higher….and Sing Like a Star!
Students who are highly motivated or are interested in becoming professional singers should invest in voice lessons with studio owner and Master Teacher Tricia Grey, MM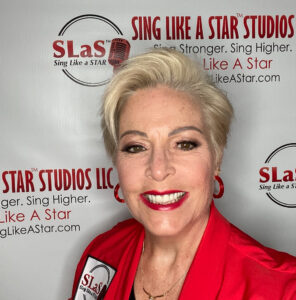 Students with financial constraints or who are exploring singing for fun will enjoy Lessons for Less with our highly trained and qualified SLaS Associate Teachers.
LEARN ALL ABOUT THIS AMAZING VOCAL TECHNIQUE!
Watch this video to learn all about lessons at Sing Like a Star Studios:
LESSONS AT SING LIKE A STAR STUDIOS
These are just a few examples of  our online vocal lessons and singing videos of Sing Like A Star lessons and performances. For more free singing tips and lessons please subscribe to www.youtube.com/triciagrey
What to expect at the first lesson
Voice lessons for children
How to sing high notes – your upper register
How to sing low notes – your lower register
Speech Level Singing
Distance Lessons are so convenient!  (We use Zoom now)
Sing Like A Star Students in Lessons
Student live performances
Tricia performances
We look forward to helping you Sing Stronger…Sing Higher…and Sing like a Star!