Private Voice Lessons in Roswell GA & Online Vocal Coach – Tricia Grey, MM
At Sing Like a Star studios you can take Roswell GA private lessons from one of the music industry's most respected vocal coaches- Tricia Grey, MM.  If you need an online vocal coach, Tricia teaches all over the world with online voice lessons!  She is an expert at making online voice lessons with Zoom just as effective as  in-person voice lessons!
At Sing Like A Star you will learn the vocal technique of the stars from a music industry veteran who has been there- Tricia Grey, MM is a professional singer, author, and voice teacher with an unbeatable combination- a Master's Degree in music, over 40 years' professional experience singing, writing songs, recording, teaching, and performing in the competitive music industry, and ongoing research in vocal science.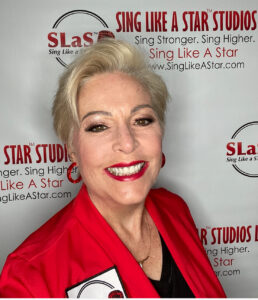 In addition to having been a professional singer, Tricia Grey, MM is an expert on vocal technique and pedagogy who has spent many years researching the science of vocal production. She is the author of the books YOU can Sing like a Star! and YOU can be a Successful Voice Teacher!
Her experience and knowledge of the music industry along with her educational background provide an unbeatable combination.
Tricia's  Sing Like a Star vocal method is a unique and powerful approach to vocal training that incorporates the latest research in the fields of vocology and vocal science- applied to contemporary singing!  SLaS is the preferred training used by R&B, gospel, country, pop, rock, Broadway, and musical theatre singers throughout the world. It is the most sought after singing technique in the music industry today!
All instruction at Sing Like a Star Studios is based on the principles of the textbook YOU can Sing like a
Star!  by Tricia Grey, MM.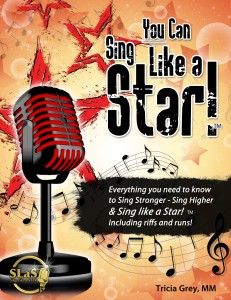 The Sing Like a Star vocal method develops vocalists who can sing low notes to extremely high notes with a powerful, consistent, and soulful sound- the commercial vocal quality the music industry is looking for!  SLaS technique will develop a huge range,  power, flexibility, control for riffs and runs, and your personal vocal style.
Tricia's primary focus now is to pass on the wealth of knowledge and experience acquired in her many years in the music industry to her students, to empower all artists to reach their full potential and to realize their dreams, and to help anyone who has always wanted to sing  achieve their goals.
"I believe if you have the desire to sing, you can learn to sing, no matter what your background or obstacles are", says Tricia.  "The desire to sing is in you for a reason, and you will only be happy as a person if you follow that desire.  If you have a burning desire to sing, that means you should be singing! You don't have to want to be a star to love singing and to benefit from vocal training at Sing Like a Star studios- there is a place at SLaS for everyone to express their creativity! "
Tricia sings and teaches in all vocal styles- rock, R & B, gospel, blues, jazz, musical theatre, and country.  She knows what it takes to succeed in today's competitive music business.
Whatever your background, skill level, age, or experience, Tricia Grey, MM and Sing Like a Star Studios are here to help you live your dream- to sing like a star! Whether you are looking for Roswell GA private voice lessons, or you need an online vocal coach, Tricia Grey, MM and Sing Like a Star studios has you covered!
Tricia taught America's Got Talent winner and internet sensation Angelica Hale from the time she was five years old.  Angelica is a great example of what the combination of work ethic, drive, and the right vocal technique can accomplish.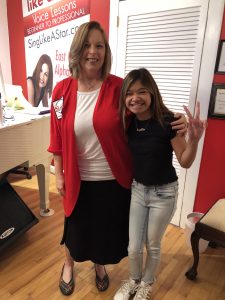 STUDENTS TALK ABOUT VOICE LESSONS WITH SLaS STUDIO FOUNDER TRICIA GREY, MM
Tricia- had band practice right after lesson today. Felt good, bringing more of the healthy techniques over to the mic and the band setting. Your guidance is extremely helpful, so thank you, truly- I had been looking for a while to find a vocal coach who could really understand my needs as a performer, and I am very glad to have this opportunity.
Best,
-Nick P
Within the first lesson with Tricia I could feel and hear a huge change in my voice, much different than any vocal lesson I had before…my range was wider instantly. At 16 years old I made it all the way to Hollywood with American Idol (Season 5). I know Tricia's lessons and teaching helped get me there! Since American Idol, I have been traveling the world singing and performing and am currently in Los Vegas in the Divas3 show, as well as touring and singing backup for the rock band Journey, and I have released my album, "Here We Go" available on I-Tunes at http//itunes.apple.com/us/artist/ellis-wright/id553517732.
I know that Tricia Grey was such a large part of my journey and I cannot express my thanks enough. If you want to challenge yourself, grow as a singer, work with someone who knows exactly what they are doing and can offer the greatest vocal lessons… work with Tricia Grey! Thank you SO much for all your guidance and helping me grow as a performer Tricia!
Laura Suzanne Wright
Hi Tricia,
Steve and I have been talking a lot about Scarlett this week before she moves out on Friday. (boo hoo) 🙂 We are confident that she will do her best as she begins her college career, and that she will do well, given her love for music and the strengths that you have provided for her being her teacher for the past three years. We can't tell you how much we appreciate all that you have taught Scarlett and continue to teach her. She told me on the way home from her lesson on Sunday, "Tricia is one of the best things that has happened to me, and I can hardly say that without crying." You have given her so much support, just by your love and knowledge of music, and your guiding Scarlett in a direction she would never have explored without your help. There really aren't words to express just how much it truly means to listen to her sing all the time. You have had such a huge part in that, and Steve and I are so very thankful to you.
We wanted you to know just how much you are appreciated!
Thank you again!
Steve and Terri
GETTING STARTED
1. To get started with voice lessons with studio founder Tricia Grey, MM, first, download and read the INFORMATION AND FAQ sheet. This will answer all your questions about lessons at Sing Like a Star.
2. Register and pay for a Professional Voice Evaluation where we will assess your voice, provide professional feedback, and schedule you for ongoing lessons.
At the Professional Voice Evaluation (an in-person session at our Roswell studio, close to Alpharetta, or online with Zoom) Tricia will assess your voice, find a spot in her regular weekly schedule, and reserve your first month of sessions (if you decide you want to commit to the lessons).