Online Singing Lessons & Voice / Vocal Training
Online Singing Lessons are becoming increasingly popular and with everything going on in the world, online vocal lessons are actually quite optimal!
Here at Sing Like a Star, we are ready to get you started no matter what type of student you are. Our students range from our highly motivated pre-professional students seeking a career as a professional singer to beginners and adult students looking to brush up on their favorite hobby.
For our future singing stars, we recommend that you invest in lessons with studio owner and Master Teacher Tricia Grey, MM. For those seeking Lessons for Less, we recommend get started with our highly qualified and trained SLaS Associate Teachers.
To get started, download and read: INFORMATION AND FAQ.  This document will tell you everything you need to know about lessons at Sing Like a Star Studios.
LESSONS AT SING LIKE A STAR STUDIOS
Many students from all over the world as well as those who live in the local Atlanta area are discovering the convenience of online voice lessons.
By utilizing online voice lessons with Sing Like a Star, you will be able to take professional voice lessons from the safety and comfort of your own home, from your hotel while traveling, or from anywhere in the world!
Sing like a Star's virtual online singing lessons bring our professional expertise to students in any location using a computer, smartphone, or other device.  Anywhere you have access to wi-fi, you can take a voice lesson!
QUICK START VIDEO: HOW TO REGISTER FOR LESSONS AT SING LIKE A STAR
ONLINE VOICE LESSONS ARE SAFE, CONVENIENT & EASY!
For your convenience and the success of each online lesson, we utilize zoom and have become experts in using the program to deliver quality, professional online voice lessons. At this point, our online vocal lessons deliver an experience that is just like training in our studio!

In today's fast-paced and over-scheduled world, nothing beats the convenience of Online Voice Lessons at Sing Like a Star Studios! 

Online voice lessons with Zoom are just as effective as in-person lessons- but you don't have to drive! We have been teaching Zoom lessons around the world for many years, so we are experts at making the experience very much like being there in person! What a great stress and time saver, and so convenient!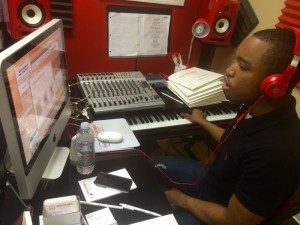 The first step to getting started with any of our classes is to register for a no-obligation GETTING TO KNOW YOU introductory session with the teacher of your choice.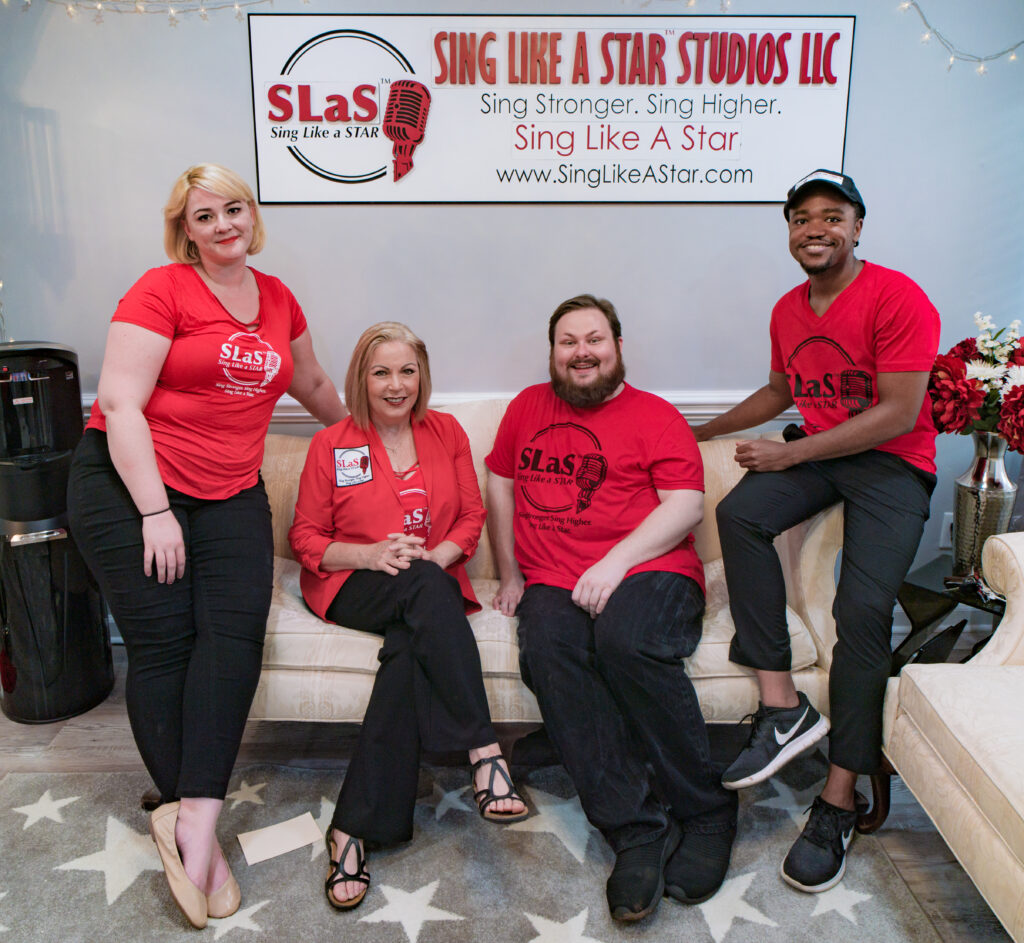 GTKY (Getting to Know You Session) Rates:
Tricia Grey, MM: $40.00
SLaS Associate Teachers: $25.00
LESSON RATES FOR STUDIO OWNER TRICIA GREY, MM
WEEKLY LESSON RATES (CONTRACT): PREPAID MONTHLY

30-MINUTE LESSON: $75.00 ($300 per month)
45-MINUTE LESSON: $112.50 ($450.00 per month)
60-MINUTE LESSON: $150.00 ($600.00 per month)
BI- WEEKLY RATES (CONTRACT) ONLY AVAILABLE IF THERE IS SOMEONE TO FILL THE ALTERNATE WEEK:  PREPAID MONTHLY

30-MINUTE LESSON: $85.00 ($170 per month)
45-MINUTE LESSON: $127.50 ($255 per month)
60-MINUTE LESSON: $170.00 ($340 per month)
DROP-IN (NO CONTRACT): VERY FEW TIME SLOT OPTIONS AVAILABLE
30-MINUTE LESSON: $105.00
45-MINUTE LESSON: $157.50
60-MINUTE LESSON: $210.00
Register for Online Vocal Lessons with Master Teacher Tricia Grey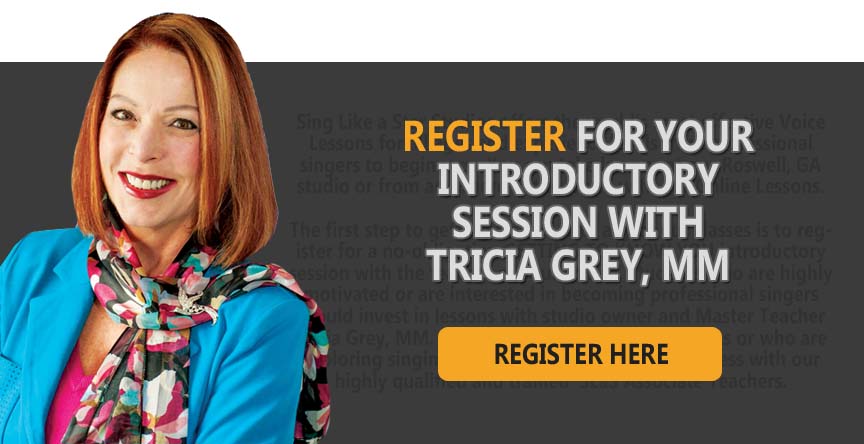 LESSON RATES FOR SLaS ASSOCIATE TEACHERS
WEEKLY LESSON RATES (CONTRACT): PREPAID MONTHLY
30-MINUTE LESSON: $35.00 ($140 per month)
45-MINUTE LESSON: $52.50 ($210 per month)
60-MINUTE LESSON: $70.00 ($280.00 per month)
BI- WEEKLY RATES (CONTRACT) ONLY AVAILABLE IF THERE IS SOMEONE TO FILL THE ALTERNATE WEEK: PREPAID MONTHLY
30-MINUTE LESSON: $45.00 ($90 per month)
45-MINUTE LESSON: $67.50 ($135 per month)
60-MINUTE LESSON: $90.00 ($180 per month)
DROP-IN (NO CONTRACT): VERY FEW TIME SLOT OPTIONS AVAILABLE
30-MINUTE LESSON: $50.00
45-MINUTE LESSON: $75.00
60-MINUTE LESSON: $100.00
Register for Online Vocal Lessons with an SLaS Associate Teacher here: