Learn to Sing – Vocal Coach in Roswell and Alpharetta GA & Online
We welcome all ages and levels of experience from beginner to professional!

Sing Like a Star is conveniently located close to surrounding areas including Alpharetta, East Cobb, Dunwoody, and Sandy Springs. You can take voice lessons in-person at our conveniently located Sing Like a Star Studio in Roswell GA (30076) or from anywhere in the world with our Online Lessons.
Learn about studio founder Tricia Grey, MM
Learn about the Sing Like a Star Vocal Method
Here's an example of just a few of our many success stories at Sing Like a Star.  With a commitment to weekly voice lessons and daily practice, this could be you!
GETTING STARTED
1. First, download and read the INFORMATION AND FAQ sheet. This will answer all your questions about lessons at Sing Like a Star.
2. Register and pay for a Professional Voice Evaluation where we will assess your voice, provide professional feedback, and schedule you for ongoing lessons.
At the Professional Voice Evaluation (an in-person session at our Roswell studio, close to Alpharetta, or online with Zoom) your teacher will assess your voice, find a spot in their regular weekly schedule, and reserve your first month of sessions (if you decide you want to commit to the lessons).
You can choose voice lessons with studio owner and Master Teacher Tricia Grey, MM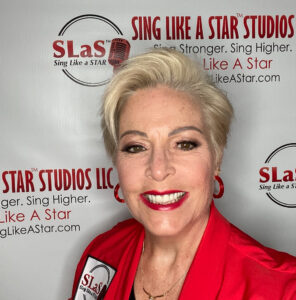 We also offer voice lessons with an SLaS Associate Teacher
OPTIONS  FOR STUDY
600 Houze Way, Roswell, GA  30076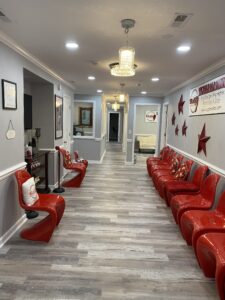 Or, you can take online voice lessons
Anywhere you can get wi-fi, you can take a voice lesson!  Even in your car!
Online voice lessons with Zoom are just as effective as in-person lessons- but you don't have to drive! We have been teaching Zoom lessons around the world for many years, so we are experts at making the experience very much like being there in person. What a great stress and time saver, and so convenient!
RATES
Lessons are pre-paid monthly.  Payments are by automatic debit and process on the first day of the month. You can choose 30-minute, 45-minute, or 60-minute weekly lessons.
30-MINUTE WEEKLY LESSONS
Master Teacher Tricia Grey MM- $300 per month
SLaS Associate- $200 per month
45-MINUTE WEEKLY LESSONS
Master Teacher Tricia Grey MM- $450 per month
SLaS Associate- $ 300 per month
60-MINUTE WEEKLY LESSONS
Master Teacher Tricia Grey MM- $600 per month
SLaS Associate- $400 per month
QUESTIONS? Please email our Sing Like a Star support team at support@singlikeastar.com
Call our support team at 404-790-1830 Monday-Friday, 10 am-6 pm EST
We look forward to helping you Sing Stronger….Sing Higher…..and Sing like a Star!