Singing lessons in GA have never been better! Now you can learn the world's most effective vocal method with a highly trained and certified Sing Like a Star Associate Teacher.
Affordable Vocal Coaching with a highly skilled and certified Sing Like a Star Associate Teacher!
Our Sing Like a Star Associate Teachers are rigorously trained by studio founder Tricia Grey, MM, in the world-famous Sing Like a Star method extensive professional singing and performing experience.
Why are our SLaS Associate Teachers so successful at what they do? The difference is the SLaS vocal method. Many voice lessons are presented with vague, undefined objectives and little feedback, resulting in very little real improvement. These ineffective lessons typically consist of a random "warm-up" followed by a song with little or no specific skill building.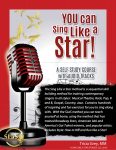 We have a better approach: The Eight Steps of Vocal Development, based on the textbook YOU can Sing Like a Star! by studio owner Tricia Grey, MM. This is a logical, goal-driven, objective based approach that develops skills sequentially. You can ask your SLaS Associate Teacher at any time about your progress and you will get an informed answer related to the educational objectives of The Eight Steps of Vocal Development. You will know exactly how you are progressing and what the next goal is with the Sing Like a Star method, a method that is based on the educational model of defined and specific objectives and measurable outcomes.
Our goals are to eliminate the break in your voice, make your high notes stronger, and to develop power, flexibility, and musical skills such as vibrato and dynamics. You will learn how to sing in the styles you love- rock, blues, R & B, gospel, country, rock, jazz or musical theater. And you will get the chance to perform and try out your new vocal skills in our twice-yearly Sing Like a Star Singers' Showcases!
You can also learn piano, guitar, and songwriting, artist development, performance skills and choreography. Many students book hour-long lessons once a week, dividing the time between voice, piano or guitar, and songwriting.
AND, you can record a demo or your next hit song in our recording studio!
At Sing Like a Star studios we develop the full artist!
Meet SLaS Associate Teacher Lewis Ray (click on the picture). Lewis has been an Associate Teacher at Sing Like a Star for over eight years. He is an amazing teacher and his students love him!
GETTING STARTED
1. First, download and read the INFORMATION AND FAQ sheet. This will answer all your questions about lessons at Sing Like a Star.
2. Register and pay for a Professional Voice Evaluation where we will assess your voice, provide professional feedback, and schedule you for ongoing lessons.
At the Professional Voice Evaluation (an in-person session at our Roswell studio, close to Alpharetta, or online with Zoom) your teacher will assess your voice, find a spot in their regular weekly schedule, and reserve your first month of sessions (if you decide you want to commit to the lessons).