If you live in Sandy Springs and you or your child would like to learn to sing, you are in luck! The world's best voice lessons and vocal coaching are very near to you at our beautiful Roswell location. Our studio is conveniently located just off I-400 or Hwy 120/ Hwy 9, just north of Mansell Road.
And, for added convenience we also offer online singing lessons via zoom, for those days when you don't want to leave the house.
Learn to sing from the world's best voice lessons to sing in the vocal styles YOU love most. Our teachers are skilled in all styles, including musical theater, pop, Christian Contemporary, and country.
You can learn to sing from Master Teacher Tricia Grey, MM, or with our SLaS Associate Teacher, certified and expertly trained in the world-famous Sing Like a Star method.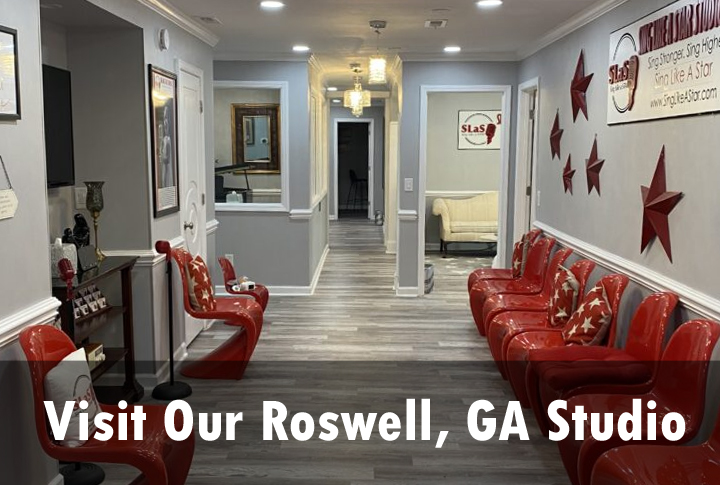 Learn to Sing Like a Star with Professional Vocal Teachers near Sandy Springs
It's extremely important to learn to sing from professional singers with a track record in the music business- and that's what we offer at Sing Like a Star. Our vocal technique is guaranteed to give you the results you are looking for- if you practice every day!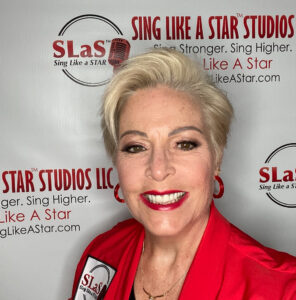 Why Learn to Sing at Sing Like a Star?
Sing Like a Star Studios is conveniently near to Sandy Springs. We are on Houze Way in Roswell.
On days when you don't want to drive, you can do lessons with Zoom!
Wherever you are in your vocal development, whether you are a beginner or a pro, we have the tools to take you to the next level.
You will learn to sing in any style you enjoy – rock, pop, R & B, gospel
The SLaS method is an organized skill building approach – not just "warm up, sing a song, and go home". We get results!
You will not only learn to sing well, with the world's best voice lessons, but you will learn to be an awesome performer in our twice yearly showcases.
We even have a choreographer to help you perfect your moves!
You will learn to sing stronger, sing higher, and sing like a star!
Watch this video to learn all about lessons at Sing Like a Star Studios:
Our Associate Teacher is certified in the SLaS method and is a dedicated professional who loves to work with children- and adults too!
To learn to sing with the world's best voice lessons, register for a Professional Voice Evaluation ($30) by clicking on the red button below:

---
Sing Like a Star Studios has been providing vocal lessons and voice coaching to our clients in Dunwoody for over 20 years. Come and learn to sing with us!
QUESTIONS? Please email our Sing Like a Star support team at support@singlikeastar.com; call our support team at 404-790-1830 Monday-Friday, 10 am-6 pm.