Sing Like a Star studio owner Tricia Grey, MM is an exceptionally qualified voice teacher with a Master's Degree in music and over 40 years' professional experience singing, writing songs, recording, teaching, and performing in the competitive music industry. Tricia sings and teaches in all vocal styles- rock, R & B, gospel, blues, jazz, musical theatre, and country. She is a music industry veteran who knows what it takes to succeed.
A native of Los Angeles where she taught voice and sang professionally for many years before relocating to London, New York and then Atlanta.
Tricia's performing and teaching career in Los Angeles included singing lead in many top LA bands, as a solo artist and as the opening act for many top name recording artists. Her performing career included touring the United States and Europe as well as recording her original music in some of LA's most famous recording studios. She has performed with many of the top names in the music industry in Los Angeles, New York, and London.
Tricia trained internet sensation Angelica Hale from the age of five, through the show America's Got Talent.
Tricia Grey, MM has spent many years researching the science of vocal production and she is an expert in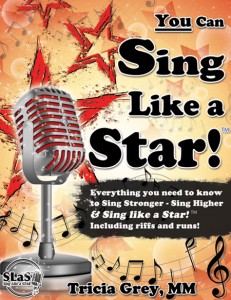 vocal technique and pedagogy. She authors instructional manuals used for training voice teachers throughout the world. She combines her experience and knowledge of the music industry with a formidable educational background for an unbeatable combination. Her life-long study of vocal science, technique, and pedagogy has resulted in a synthesized, unique and powerful approach to vocal training that is unparalleled. In fact, Seth Riggs, teacher of Michael Jackson, Stevie Wonder, Ray Charles, and hundreds of other stars (and Tricia Grey's teacher for over 20 years) says "I can not imagine a teacher more eminently qualified than you- you have it all! A great voice, educational degrees, and an amazing ability to teach others what you know- how to mix!"
All instruction at Sing Like a Star Studios is based on the principles of the textbook You can Sing Like a Star! by Tricia Grey, MM. The Sing Like a Star vocal method enables singers to sing with power and control from the lowest notes to the highest notes with a powerful, consistent, and connected sound- the commercial sounding vocal quality that the music industry is looking for! This is known as the balanced registration and mix approach to voice. This technique will develop amazing high notes, at least a three octave range (or more), power, control for riffs, licks and runs, along with the development of your personal vocal style.
Every singer today needs powerful high notes that are similar in tone to the low notes, rather than flipping into a weak, breathy sound for higher pitches. That quality is known as MIX! Singers who have great mix voices include Beyonce, Ariana Grande, Demi Lovato, John Legend, Adam Levine, Katy Perry, and Bruno Mars. Mix is the most sought-after vocal sound in the music industry today, and Sing Like a Star is the place to learn it!
Most vocal lessons consist of vague or undefined objectives, little feedback, and very little if any real training. A typical voice lesson consists of a random and ineffective warm-up followed by singing a song over and over with little vocal development or skill building. Rather than ineffective and random warm ups with exercises that have little result and no meaning to the student, we develop specific skills, in a specific order, for a specific purpose. This is a a specific, organized sequential skill-building plan of development with definable and measurable objectives for each step of your journey; we will be glad to discuss these objectives with you so you will know how you are doing.
The Eight Steps of Vocal Development begins with the foundations of good singing- breath management, vocal fold adduction, and elimination of extrinsic muscle activity for a relaxed, neutral larynx. We first activate and develop the lower register of the voice, followed by the upper register. Then we connect those registers together so you have one unified voice that sounds like you are singing from bottom to top with just one register. This is the contemporary sound you hear the best artists of all genres singing with today; the foundation of the balanced registration and mix technique.
The higher steps of development emphasize musical skills like vibrato, dynamics, and flexibility. You will even learn how to sing with style- how to do great riffs and runs- and you will learn where they come from, so you can create your own riffs and runs! The Eight Steps of Vocal Development will build a reliable and efficient vocal technique- so you can focus on performing! But even more important to you, the singer, is knowing how to apply these skills to the songs you would like to sing. We encourage you to explore and sing the music you enjoy, rather than forcing you to sing in an instructor's favorite style.
SLaS FOUNDER TRICIA GREY, MM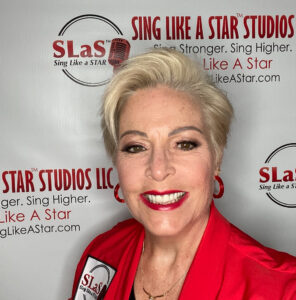 QUESTIONS?
Please email our Sing Like a Star support team at support@singlikeastar.com or call our support team at 404-790-1830 Monday-Friday, 10-6 pm EST.
For all questions about lessons at SLaS please visit this page: LINKS TO REVIEW BEFORE BOOKING
We look forward to helping you Sing Stronger…Sing Higher…and Sing like a Star!