Record a demo or write your next hit song at Sing Like a Star Studios!
We offer studio recording services, with Logic Pro software.  It's always best to have your voice teacher in the recording studio with you- and now at SLaS, you have the studio and the teacher in the same place!   SLaS Associate Teacher Lewis Ray is a professional sound engineer and awesome producer.  Record a demo or your next hit song at Sing Like a Star Studios!  If you need songwriting instruction to write that hit song, we provide that too!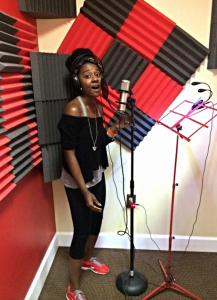 Lewis Ray is a multi-talented singer and songwriter, who studied music at Berklee College of Music in Boston, MA and Audio Production at the Art Institute of Atlanta.
He plays piano and guitar and loves all styles of music!
When he's not teaching at Sing like a Star studios, he enjoys recording and performing his original songs.
At Sing Like a Star, we will help you create an industry-ready demo!
STUDIO RECORDING AT SLaS
To book a recording session at Sing Like a Star, please phone our support staff at 404-790-1830.
Studio time is booked in a minimum of 1 hour blocks, but most sessions require at least 3 hours.
1 hour studio time:   $60

All studio time is pre-paid through our very secure online automatic debit system. We do not take cash, checks, or any other form of payment at the session; we want to use our time with you to focus on your session!
Most studio sessions require a minimum of a 2-3 hour block
To book studio recording time please call the office at 404-790-1830 M-F 10am-6 pm.
We look forward to helping you Sing Stronger…Sing Higher…and Sing like a Star!