Sing Like a Star Studios offers Voice Lessons for all ages and experience levels from professional singers to beginners, Songwriting, Piano and Guitar, Lessons for Children, Studio Recording, and Performance Opportunities. We offer a Lessons for Less program with our highly qualified and trained Sing Like a Star Associate Teachers and a very unique and age-appropriate program for younger singers. You can take lessons from anywhere in the world with our Online Lessons.
The first step to getting started with any of our classes is to register for a no-obligation GETTING TO KNOW YOU introductory session with the teacher of your choice. Students who are highly motivated or are interested in becoming professional singers should invest in lessons with studio owner and Master Teacher Tricia Grey, MM. Students with financial constraints or who are exploring singing for fun will enjoy lessons with our SLaS Associate Teachers.
QUESTIONS? Please email our Sing Like a Star support team at support@singlikeastar.com; call our support team at 404-790-1830 Monday-Friday, 10 am-6 pm EST. Download: INFORMATION AND FAQ. This document will answer any questions you have about lessons at Sing Like a Star Studios.
GROUP LESSONS
At Sing Like a Star we offer your child the opportunity to perform in groups that give performances in local Atlanta venues.
BROADWAY STARS
A theatre class, dramatic troupe, and singing/acting/learning experience!
Actors, singers, and theatre hopefuls of all ages can broaden their horizons through a once-a-week class held Sunday afternoons at the Alpharetta studio.
"The Atlanta area is rich with theatre opportunities for performers of all ages," explains Tricia Grey,MM,  studio owner, "yet many talented performers shy away from auditions because they don't know what to expect. This class will help the novice feel secure and at ease with those who've been participating in theatre for years."
Starting with "what's an audition," this class will immediately dive into scenes, character and musical numbers, then feature drama vocabulary, hands-on role-playing, and exposure to a variety of quality theatre literature for young actors. On the "fun" side of things, every class will include physical warm-ups, drama games and music. This activity is for both the wallflower who needs to be coaxed and the show-off who needs an outlet—a real 'something for everyone' experience!
Elaine Drennon Little, MFA, Broadway Stars director, served as a music educator and drama teacher in Georgia public schools for twenty-eight years and is a long-time director and participant in community theatre. Her former students ranked highly at both regional and state levels in one act plays, literary events, and in the state and international Thespian Conference.  Many of those students are currently in colleges pursing theatre, vocal, and instrumental degrees.
Throughout the coming months, all students will be part of both large group scenes, musical numbers, and individual monologues.
The gift of opportunity in music, drama, and the fine arts is a gift that can grow and continue throughout a child's life. Consider Broadway Stars as such a possibility for your child's artistic development.
KIDSTARS
Would you like to have fun singing, learn background harmonies and lead singing, and learn performance skills in a supportive and safe environment? Then our KIDSTARS   classes are just for you!  These classes are great for kids from ages 3-8 who would like to learn the basics of good vocal production and great onstage "moves" with the objective of performing live in the community.
In KIDSTARS PERFORMING GROUP  you will:
Learn the latest moves for onstage performing!
Learn how to sing harmony parts!
Learn how to sing solos!
Learn basic vocal techniques such as breathing and how to sing high  notes without straining!
PERFORM!!!!!!!!!!!!   The objective of the class is to put together 20-25 minute sets for local performance opportunities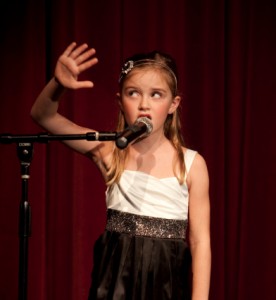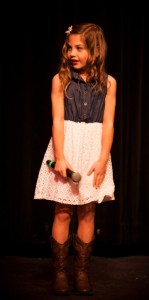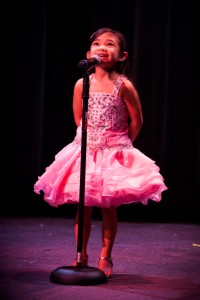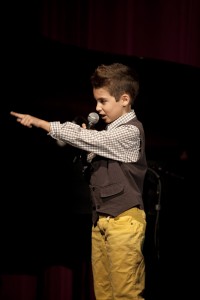 Classes are ongoing, and you can register for and join a class at any time.  Students from 3-8 at all levels of vocal development are welcome in our classes.  Performances are scheduled every 3-4 months.
If you are interested in singing in a fun group, geared toward putting together shows to be performed in the community, you can join our KIDSTARS  GROUP.
 PERFORMANCE GROUP  CLASSES PAYMENT POLICIES
After the initial registration fee of $25, payments will be debited automatically for the entire month, on the 3rd of each month. We use the information with which you sign up for the classes online. You can change that information at any time.
Some months have five weeks and some have four, so your payment amount is adjusted accordingly.
A two-week written (email is fine) notice is required to discontinue classes.
We do not take checks for payment. You must register online to be a member of the class.
You must be studying privately with one of our teachers to participate in this group.
Ages 3- 8 may participate in Kidstars. Broadway Stars is for students of all ages.
For all questions about lessons at SLaS please visit this page: LINKS TO REVIEW BEFORE BOOKING
We look forward to helping you Sing Stronger…Sing Higher…and Sing like a Star!