LITTLE STARS- Ages 3-8
LITTLE STARS is our fun and educational program for our youngest singers ages 3-8.
The LITTLE STARS lessons provide a very basic introduction to good vocal technique, along with fun songs, movement, dancing, playing rhythms, and generally having fun!
Our LITTLE STARS perform in the twice yearly showcases,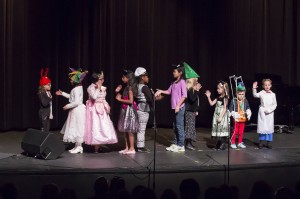 complete with costumes and choreography. What a great way to get your child started with a love for singing and music!
LINKS TO REVIEW BEFORE BOOKING
HOW YOUR VOICE WORKS: Fascinating explanations about the science of vocal production by Tricia Grey, MM.
RATES: Pricing and rates for all classes and teachers is found on this page.
LOCATIONS: Directions to both our conveniently located Roswell studio.
ONLINE LESSONS: If you don't live in the Atlanta area, or are simply too busy to drive, online lessons are a lifesaver!
MASTER TEACHER TRICIA GREY, MM: SLaS studio founder Tricia Grey, MM is a music industry veteran who knows what it takes to succeed!
LESSONS FOR LESS: SLAS ASSOCIATE TEACHERS: Learn the SLaS vocal technique for far less with our highly qualified and certified SLaS Associate Teachers!
SUCCESS STORIES: SLaS Students who are now professionals.
ADULT STUDENTS: We work with students of all ages and experience levels, from professional to beginner. Even if singing is just on your "bucket list" there is a place for you at Sing Like a Star!
LESSONS FOR CHILDREN: We take children of all ages from 3+ at all skill levels. It's never too early to start learning to sing the correct way! Pre-professional and highly motivated children should study with studio owner Tricia Grey, MM. Children from 3-8 should study with KidStars director Elaine Drennon Little, MFA, MEd.
SLaS KIDS: Your Child Could Sound Like This! Visit this page to see videos of just a few of our successful and inspiring SLaS kids!
LITTLE STARS Ages 3-8: Little Stars is a fun-filled way to expose your child to correct singing while having fun! This class is taught by Elaine Drennon Little, MFA, MEd, a 28- year veteran of the Atlanta public school system.
SONGWRITING: We will teach you a quick and easy approach to songwriting that will have you creating your own songs in no time-even if you do not currently play an instrument.
PIANO AND GUITAR: Many students add piano and guitar lessons to their weekly voice lessons with us.
STUDIO RECORDING: We can help you record a demo, or your latest hit song!
THE SLaS METHOD: Read this page to find out why the SLaS method is so effective.
INFORMATION AND FAQ: Download this document for the answer to all your questions about study at SLaS.
SHOWCASES: Learn to be a professional performer in our Sing Like a Star Showcases!
To understand why consistent weekly lessons and focused, mindful, daily practice are so important:
Become a Successful Singer by Establishing Priorities
TO GET STARTED WITH PRIVATE VOICE LESSONS:
Decide which location is best for you: East Cobb, Alpharetta, or Online (or a combination of these!).
Decide the level of teacher you would like to work with: Master Teacher and studio owner Tricia Grey, MM or a qualified and certified SLaS Associate Teacher. Pre-professional and highly motivated students should invest in study with studio owner Tricia Grey, MM. Students with financial constrains or who are exploring singing for fun should work with an SLaS Associate Teacher.
Register and pay for a GETTING TO KNOW YOU (GTKY) Introductory Session with the teacher of your choice. We will contact you by phone and email after we receive your registration, to schedule your session.
TO LEARN MORE:
To see what lessons are like: Visit the VIDEOS page. These videos will help you to get a sense of what lessons at Sing Like a Star Studios are like.
To see videos of our successful alumni: Visit the SUCCESS STORIES page for videos of SLaS students who are now working professionals. Visit the SLaS KIDS: Your Child Could Sound Like This! page for videos of some of our inspiring kids.
To understand how your voice works: Visit the The SLaS METHOD- What You Will Learn, VOCAL TIPS , and HOW YOUR VOICE WORKS pages for information about the SLaS vocal method and the science of vocal production.
For free mini voice lessons: Visit and subscribe to youtube/triciagrey for free mini- lessons.
For free vocal tips: Subscribe to the Vocal Tips blogs. Tricia Grey, MM, writes informative blogs about singing, the science of the voice, and everything you need to know to succeed in the music business.
To stay connected: Stay connected with us on our SLaS Facebook page.
For all questions: Visit the FAQ page for the answer to any question you have about lessons at Sing Like a Star.
We look forward to helping you Sing Stronger……Sing Higher…..and Sing like a Star!