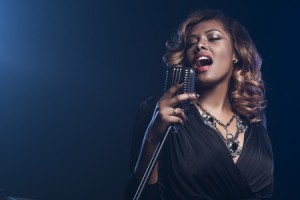 Continue learning about the different styles of singing in the third part of our series "Singing Authentically in Every Style". Before you start reading Part III, refresh yourself on Part I and Part II.
Pop Style
Pop is short for popular, the style of music that most of the general public tends to listen to and enjoy. It is very conversational on the bottom pitches but the great pop singers of today have the ability to sing high, loud, and hard in a strong mix for the upper notes. Pop singers today can be very soulful; however they choose riffs tastefully so they aren't overdone.
There is usually less vibrato in pop music, but singers with varying types of vibrato that would not be acceptable in other idioms (such as tremolo) are common in pop. Long notes are often held out with a straight tone followed by vibrato.
Pop music incorporates the styles of many other genres, from R & B to rock to country. If you want to be a great pop singer, start by listening to and imitating the artists from all the eras starting with the 1950's that led to today's pop artists. Etta James, Sam Cooke, Donna Summer, Chaka Khan, Linda Ronstadt, Eva Cassidy and Whitney Houston were all wonderful singers who influenced today's artists such as Beyonce, Kelly Clarkson, Alicia Keys, Katy Perry and Celine Dion. If you want to be a great singer, listen to, absorb and imitate the greats such as these.
Pop music also includes a plethora of artists who are sometimes less gifted vocally, but are nonetheless great songwriters, such as Bob Dylan. This is the arena of the singer-songwriter, who plays an instrument well and composes their own songs. If the songs strike a chord with the public, the singer is accepted and loved. Of course, many singer-songwriters are very gifted vocalists as well, like Natasha Bedingfield and Alicia Keys. Vonda Shephard, who was on the TV series Ally McBeal, is a great example of a wonderful singer, songwriter and pianist. In this genre, the song lyrics are deeper and more introspective than in pop dance music
There is lots of room for individuality in pop; singing prowess runs the gamut from barely tolerable to as good as it gets. The song sells the artist, in many cases. Or you may have an amazing vocalist that can sing the telephone book and make it sell! Joss Stone is a great singer to listen to for soulful singing, as are Jessie J and Adele.
To get the feel of pop singing, speak the phrase of any song verse, then sing the phrase, making your singing as conversational as possible. For the chorus sections, you will have to have more power and intensity.
Rock Style
To be a rock singer you need power, stamina, angst, and energy. The band is loud and usually guitar-driven. This style can be very challenging for vocalists because of the constantly high stage volumes as well as the lifestyle. Just remember, you can replace a guitar string but you cannot replace your vocal folds. You cannot out-sing electricity (sing louder than the band can play with amplification) and it is foolish to try to do so. Maintaining moderate volume and air pressure, even when you are acting as if you are really 'working it' is the key to longevity in rock.
Rock singing also uses screams and growls. Again the key here is to not push the air very hard; it sounds to the audience like you are screaming, but if you are smart you will be very moderate about the volume and air pressure levels you use. The good news is that you have a microphone, amplification and hopefully a great sound engineer who will mix your voice well, both out front and in the stage monitors.  Make friends with this person and be nice to them!
Vibrato is usually non-existent or minimal. However, every so often you will hear a great rock singer, like Freddie Mercury of Queen, who has very prominent vibrato.
Rock music often incorporates elements of blues styles in bands like Led Zeppelin or of country music in bands such as the Allman Brothers. Pat Benatar, Grace Slick of the Jefferson Airplane and Heart led the way for female singers to rise in hard rock singing. Listen to these people!
Rock singing is very vocally demanding. You need to have a really good foundation in vocal technique, do a good warm-up every day, and stay away from smoking, drugs and alcohol if you want your voice to last.
You need a powerful upper register mix and a bright, ringing vocal tone. For harder rock singing you will find your abdominals working more energetically to give you support, or appoggio. If you feel a tickle or cough coming on when you sing, you are blowing too much air – back off the air pressure and get a better balance between the focusing strength of the vocal folds and the air. Keep your throat and neck muscles relaxed and try to maintain good posture; don't jut your head forward toward the mic if you are playing the guitar and singing. Put the mic on a boom stand and let it come to you; jutting your head forward makes it very hard for your larynx to function efficiently.
Staying hydrated is vitally important; drink at least 100 oz of water a day. Beer, soda and coffee do not count.
A great way to get the feel of singing rock styles is to vocalize on a siren (upward slide) with an [æ] (like AT) vowel from your lowest note to your highest note, without letting your voice crack or break.
Practice this until it is smooth!  Try it with your tongue out of your mouth, resting on your lower lip.
R & B Style
R & B means Rhythm and Blues. This style evolved from the blues, gospel and spirituals of African-Americans. A good R & B stylist will do their homework by listening to and imitating the great blues singers such as B.B King, Muddy Waters, Son House, Willie Dixon, Ma Rainey, and the more current Stevie Ray Vaughan, Bobby Blue Bland and Victoria Spivey.
Gospel singers to listen to and imitate are:
Mahalia Jackson, Aretha Franklin (who revolutionized the pop music industry), Andre Crouch, Yolanda Adams, The Staple Singers, BeBe and CeCe Winans, Oleta Adams, Billy Preston, Patti Labelle (who had huge success in pop), Mary Mary and Donny Hathaway.
Then you will want to listen to R & B greats such as Etta James, Mary J Blige, Mariah Carey, Usher, John Legend, Stevie Wonder, Christina Aguilera, Beyonce, Luther Vandross, Ray Charles, Chaka Khan, Sam Cooke, Percy Sledge, Brian McKnight and Otis Redding.
If you listen to and imitate these singers long enough (along with developing your vocal technique), you will become a great singer.
To be a good R & B or gospel singer, you need to be able to execute riffs and runs rapidly and with good intonation. Riffs and runs are based on the pentatonic and blues scales.
This is a style where feel is paramount. You absorb that by listening, listening, listening, then singing along and imitating what they do. Don't worry, you will never sound exactly like anyone else, but your own style will develop out of listening to and imitating other great singers. That's what they did to become great!
Country Style
Country singers come in two flavors these days:  the traditional twangy type singers like Willie Nelson and the pop crossover singers like Carrie Underwood, Shania Twain, Faith Hill and Taylor Swift. Country songs usually are about telling great stories so the singing is very conversational. Some traditional country singers use a lot of nasality in their sound, emphasize secondary dipthong vowels (whyeeeee-ohoooooo-whyeeeee) and never pronounce final G's (singin' instead of singing). Vowels are usually pronounced very open and wide, which can lead to laryngeal raising and throat tightening. The word I'm, for example, becomes AM.
Many of the male singers in current country, like Garth Brooks and Vince Gill and Rascal Flats have great high ranges, singing well in their upper register mix. Others, like Johnny Cash and Merle Haggard (both traditional country singers) sing only in their lower register.
Female artists with a more traditional country sound include Dolly Parton, a great songwriter, who has a lighter voice with a tremolo vibrato, Reba McEntire, Tammy Wynette and Loretta Lynn. Allison Kraus sings with a very breathy, light tone that works well on songs like "When You Say Nothing At All".
Miranda Lambert, Martina McBride, Tanya Tucker and Wynona Judd are female country singers who can also sing a more aggressive rock sound.
Patsy Cline had one of the great voices of all time, similar to early Judy Garland.
Many country singers write their own songs; if you visit Nashville (the songwriter's mecca), you will constantly hear the phrase It's all about the song. Becoming a great songwriter can often be your ticket to fame, as it was for Taylor Swift, who was not a great singer when she started, but had a great gift for writing songs that young girls (and their moms) could relate to.
---
For more advice about developing your own style of singing, check back for Part IV next month!
Sing Like A Star Studios offers private lessons for individuals of all ages and experience levels in East Cobb and Alpharetta, Georgia. To learn more about the studio and to schedule a class, contact us online today!