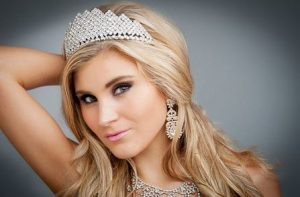 One of the things pageant contestants often do is sing. What are some tips for being a successful pageant contestant, especially if singing is your talent?
Confidence
For starters, confidence goes a long way in helping a contestant impress the judges. The more you know who you are and what you want to communicate, the better you'll do. Basically, you have to have a memorable, impactful identity that lets others know exactly who you are and that you want to win. If you are poised, articulate and can "think on your feet," that's great. For instance, if a judge asks you why you chose a certain song to sing, you should have a good answer for that question right away. Or if they ask you to give them a different song, you should be able to do so. Confidence is so important in pageants.
Make a Lasting First Impression
While pageants often focus on how you look, what really "sells you" is how you act in front of the judges. They'll get a first impression of you, and you want it to be a good one. Therefore, work on both your outward appearance and your "inner beauty." If you can let both of those shine, you'll be successful. Arrogance is not cool. Humble confidence, however, is. Be a positive person and don't stress out.
Communication is Paramount
How you make people feel really matters in life– and in pageants, too. You want to make the judges feel like they're better off for having heard you speak, sing, etc. Successful pageant contestants are excellent communicators. They look people in the eyes and they connect with those around them.
Think Like a Role Model
Think of yourself as a role model. You want to live a life that others want to emulate. The more you think of yourself as a leader and someone who influences others, the better off you'll be in contests where that sort of thing is rewarded.
Bring the Energy
Finally, your energy matters. If you seem bored or disinterested in what you're doing, you're not going to be successful. You also don't want to be the opposite either– manic contestants are deemed annoying or weird. Find a happy medium where you have good positive energy and you mean what you say and/or sing.
Sing Like a Star offers pageant coaching to help you be successful— call 404-790-1830 for more information.